WHY VEHICLE AND EQUIPMENT SAFETY SYSTEM IS CRUCIAL FOR A FLEET?
It gives the managers and drivers more control in dangerous situations.
The Vehicle Safety System alerts the drivers to potential threats via driver-assist warning systems. This helps in reducing the chances of accidents.
A Vehicle Safety System supports drivers in maintaining a safe speed and distance. It also helps in driving within the lane, avoiding overtaking in a critical situation, and safely passing intersections in a complex driving environment.
ADVANTAGES OF VEHICLE & EQUIPMENT SAFETY SYSTEM
Reduce the odds of a crash by alerting drivers to potential threats through vehicle safety warning systems.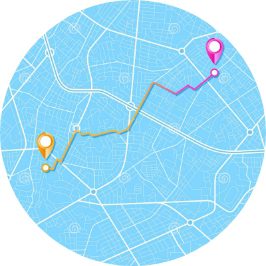 Ensures less idle time on the road, increased number of trips a day and increased productivity with reduced fuel consumption.
With delivery companies, it helps to ensure that all deliveries are made on time while cutting down fuel costs.
Improve Vehicle Maintenance
Monitor key aspects of the health of your vehicle such as fuel level, engine temperature, oil changes, wheel alignment, etc. to eliminate unnecessary vehicle inspections.
Alerts for routine maintenance equipment reduces breakdown and extends the lifecycle of the vehicle.  
Detect and alarm driver's unsafe behaviours like fatigue, distraction, phone call, smoking, no driver, and non-mask.
You can examine individual journey events and incidents in detail, and easily recognize key issues and implement safe driving strategies.
Monitor and control how efficiently your vehicles are using fuel. Monitor all your vehicles in real-time so when a new job arises you can easily assign the nearest vehicle.
This helps to decrease fleet costs with better fuel and time management.
ENHANCE YOUR BUSINESS OPERATIONS IN KEY AREAS.