SMART STORAGE & TRANSPORT FOR TEMPERATURE-SENSITIVE GOODS
A chain of precisely coordinated events in temperature-controlled environments to store, manage and transport goods.
Cold Chain Solution has proven to be the most effective solution for handling perishable goods, especially fruits, vegetables, and medicines, between production and marketing. The products are preserved in their fresh state by maintaining adequate temperature and humidity within the carrier.
Effective cold chain transportation provides real-time temperature data and control, their location, and condition of goods.
BENEFITS OF COLD CHAIN SOLUTION
Monitor and control the journey of temperature-sensitive products in refrigerated trailers, containers, and other assets to maintain quality and extend their shelf-life.
Easy Compliance and Prevent Spoilage
Simplify compliance with food safety regulations through continuous collection and retention of temperature data that makes it easy to share proof of temperature as required.
Around-the-clock temperature monitoring and automated alarms allow for quick, corrective action when issues with a load are detected; helping prevent cargo spoilage.
Improve Efficiency and Increase Profit
Use sophisticated monitoring systems that connect directly to refrigeration units and handle the functions remotely, so your driver doesn't have to.
Save on fuel costs by optimizing equipment operation and detecting issues such as fuel theft.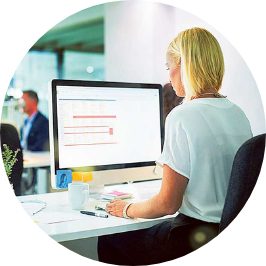 Temperature charts and Automated Alerts
See storage temperature on a dynamic chart for any specific date range. Get notified of sudden temperature fluctuations, equipment malfunctions, unscheduled stops, unauthorised door openings and more.
Receive regular updates on operating mode, running hours, fuel levels and more.
ENHANCE YOUR BUSINESS OPERATIONS IN KEY AREAS.