HOW EMPLOYEE LOCATION TRACKING WORKS?
Track employee productivity, workforce management, live tracking of field force from one place.
Employee Location Tracking System gives you a clear picture of what your employees are working on every day. It helps to measure productivity, monitor employees, and track time to boost workflow.
Easy-to-use for attendance, promoting healthy work culture, ensuring safety during critical incidents and overall better management with real-time visibility and actionable insights.
HOW DOES EMPLOYEE LOCATION TRACKING BENEFIT A BUSINESS?
Identify underperforming employees and help them understand their actions and enhance their productivity.
Improve Safety and Fast Response
In case of emergencies such as fires, explosions or gas leaks, the exact location of affected personnel is known, reducing the time required to rescue them.
In case of a heart attack, incapacitation or injury, the location of the affected person can be tracked easily thus speeding up the rescue operation.
Improve Employee Engagement & Productivity
There's no doubt by being under surveillance, employees are more aware of their every move and keep their focus primarily on work.
It also helps to monitor whether the work standards are met by all the employees. If not, then additional training can be provided to improve their work.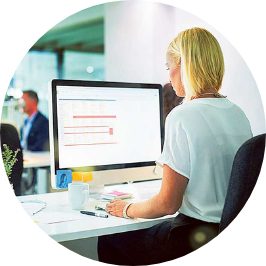 Effective Project Management
Analysing productivity and engagement trends provides opportunities to optimize work processes and make team members more productive.
Managers can come up with custom solutions for team members by knowing where, how, and why the team is facing challenges.
ENHANCE YOUR BUSINESS OPERATIONS IN KEY AREAS.